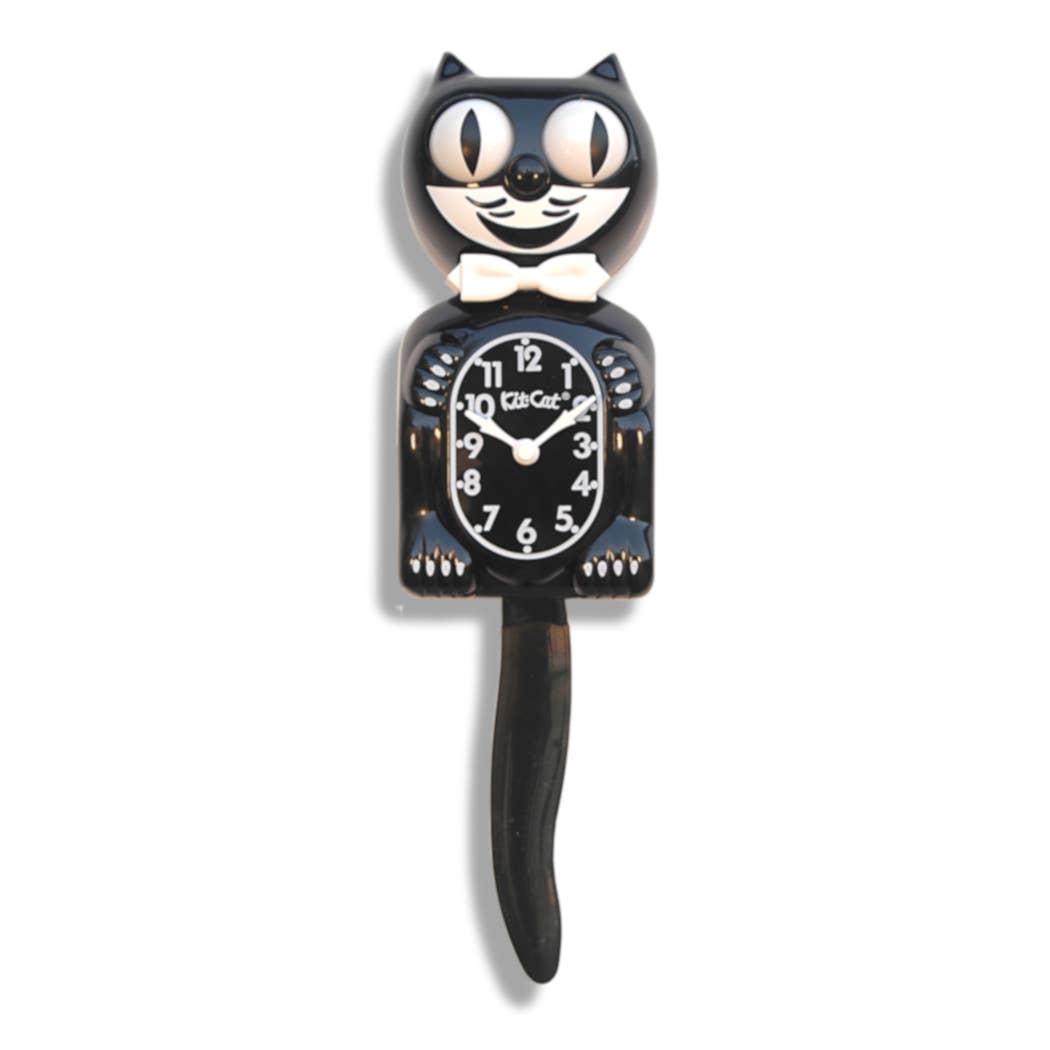 Designs for Valentines
Designs for Valentines and More
Stumped for ideas for your sweetheart, bestie or kids? Think outside of the chocolate box! Below are some of our favorites, but we have lots more in shop. Take a look at our new Valentine's Day Gift Guide for dozens of ideas! And you can always forward this email if you need to drop hints for yourself...

Our winter hours are Monday - Saturday 11-4, but keep in mind you can shop online 24/7 with curbside pickup and FREE local delivery. 
Kit Cat Klock - $50
This iconic clock has been cheering up homes since 1932. Earl Arnault designed the Kit Cat Klock during the Great Depression hoping to bring happiness into American homes. The cat's swinging tail, rolling eyes and happy smile were a huge hit and became increasingly popular through the 1950s. This piece of classic Americana is still made in the United States by the California Clock Company. 
Heart Shaped Love Pencil - $1.25
Show a little love with this sweet Japanese pencil. With a heart-shaped barrel and embossed with "love" on the top, this one is hard to resist! HB lead, sharpen using a normal pencil sharpener. Made in Japan. 
Marimekko Unikko Tote - $39
Keep it folded in your handbag to use as an extra shopping bag.  A young Maija Isola designed this abstracted pattern of poppies in 1964 after being told that Marimekko would never produce a floral print. Over four decades and countless color combinations, Unikko remains Marimekko's most enduring pattern. Made in Estonia.
iittala Champagne Glasses, Set of 2 - $42
These elegant glasses with a long, slender profile are part of the Essence series of glassware. Pair with your favorite bottle of bubbly for a perfect combo. Made in Germany.
Bauhaus III Earrings by Goldeluxe - $48
A minimal hoop in a circular shape with a rectangle drop, we love the movement in these earrings. We've got several styles of her hoops in stock! Libby Hopper-Trajkovski creates wearable, minimal pieces in her Detroit, MI studio. 
Martini Metalcraft Earrings - $69
Elegant and easy to wear every day. A subtle imprint of a topographic map provides interesting texture. This treatment is available in several styles in both silver and brass. Made right here in the Fairhaven neighborhood of Bellingham by Marijo Martini. 
Dia Bracelet by Highlow Jewelry - $45
Sonja Gallardo of Highlow Jewelry designs pieces meant to be worn for all occasions. The Dia bracelet comes in two chain styles - select from the dropdown list when ordering.  Layer it with your favorite statement pieces, or keep it classic and wear it alone. Made in the USA.
Cocktail Sticks, set of 4 - $24
These cocktail sticks come as a set of four. Made of food-grade stainless steel, they are perfect for spearing garnishes: wedges, twists, cherries, olives, onions... endless possibilities for the at-home modern bar. Made in Seattle by Fruitsuper Design.
iittala Kartio Tumblers, set of 2 - $22
A perfect pairing with those Cocktail Sticks! This classic tumbler designed by Kaj Franck in 1958 is a perfect blend of elegance and practicality. Beautiful enough to use for special occasions but sturdy enough for everyday water and juice. Made in Finland.
Japanese Handkerchief, Swallow + Cloud - $16
A lightweight, breezy handkerchief that's great knotted at your neck, tied in a ponytail or tucked in a pocket. A rolled hem helps it keep its shape. This light blue handkerchief features a swallow and cloud pattern representing eternal life and protection from illness. Made in Japan.
Recover Hand Cream - $10
Our friends at Handmade LaConner have truly created the best hand cream ever! Deeply moisturizing, healing and relieving, we love this cream for dry winter hands, constantly washed & sanitized hands, and hard working hands. A little goes a long way. Made in the USA.
PiNCH Frame - $10
Pop your favorite photo of your Valentine in this clever frame. The PiNCH Frame is a compact design that works like a clothespin, but uses magnets instead of a spring. It holds postcards, photos small drawings and more. You can even turn it upside down or spit in half for mini magnetic clipboards. 
Flexanimals Origami Kit - $7
For little Valentines, this is a great introduction to origami that builds dexterity using colorful pre-printed paper. Simply fold the strips then assemble using the double-sided tape and rubber bands to create playful animal faces! The animal heads can be endlessly manipulated and transformed. Each kit contains four different designs. Recommended for ages 7+.
Plus-Plus Animal Play Tubes - $8
Construct animals, shapes and designs with these award-winning playful toy blocks. Each tube contains 70 colorful pieces to stimulate creativity and enhance STEM learning. Also available in Dophin, Bear, Sea Turtle, Fox, and Lion. Recommended for ages 5+. Made in Denmark.