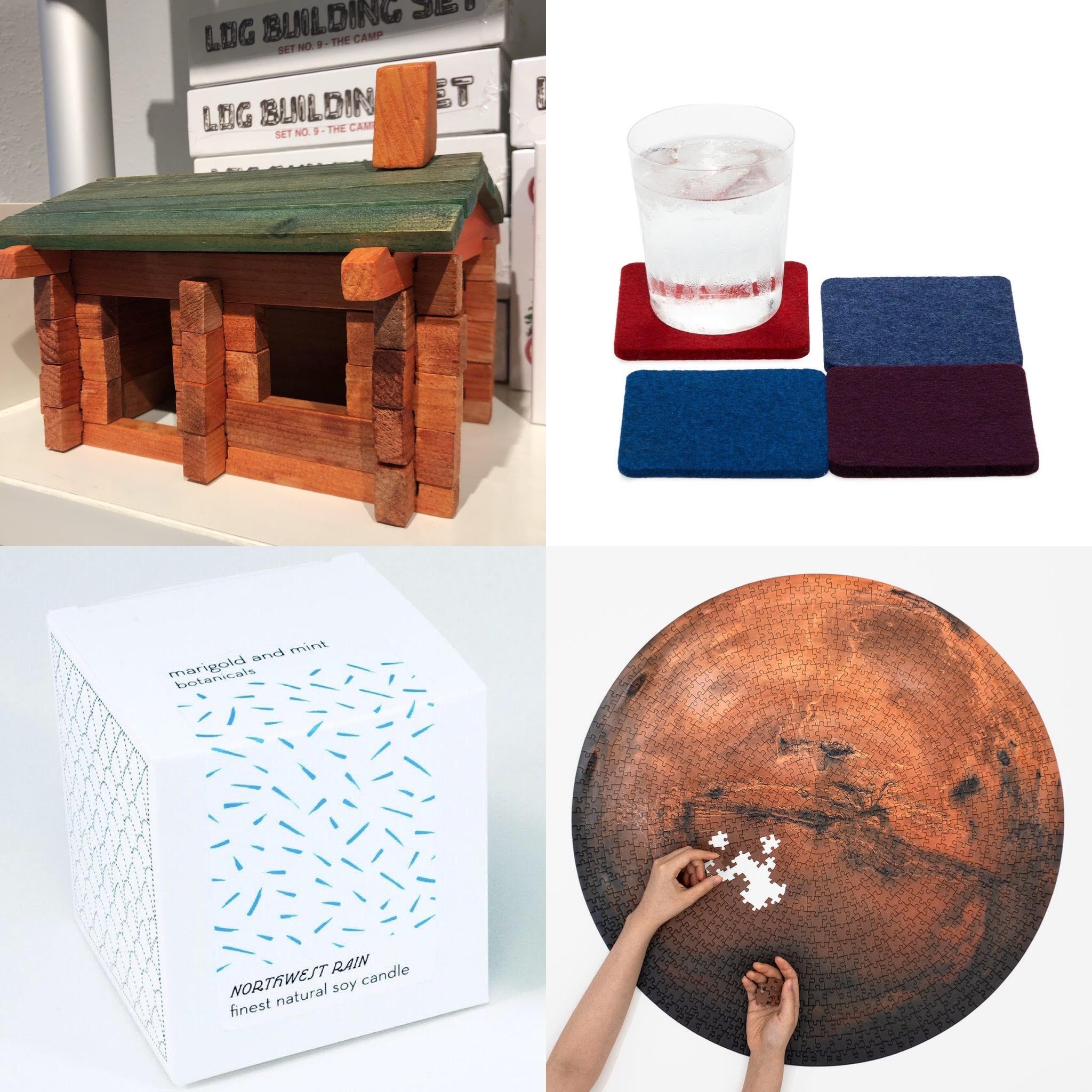 Go-To Gifts - Sure to be Loved
This week we are featuring bestselling designs, many of which have been shop winners for years, along with some new favorites, too. We've been at this for 14 years now (!) and are happy to help you find creative ideas for co-workers, teachers, friends and family. We've put together a gift guide of safe-bet designs for your consideration. See the entire guide here. Don't forget we offer complimentary gift wrapping, too. 
Monday, 12/13 through 12/23, we are extending our hours into the evening to help with your shopping needs. New hours will be Monday - Saturday 10-8 and 12-5 on Sundays. Not feeling like getting out of the house? Remember you can shop online 24/7 with curbside pickup and FREE Bellingham delivery. Free shipping on orders $100+ or $10 flat rate shipping on orders under $100.
Need something shipped? Our deadline for delivery by 12/24 is Friday, 12/10 so get your orders in ASAP. Thank you for shopping locally!
 
Unikko Smartbag - $30
The light Smartbag has Marimekkos classic Unikko (poppy) pattern. The foldable shopping bag fits into a small pocket on the inside of the bag, which makes it a good accessory while shopping and traveling. We love that these bags are machine-washable, in case any of your market goods should spill. Also available in black and white. 

Sugahara Mini Vase - $32 each
These Japanese vases are small, delicate, and have soft curves only created by hand-blowing techniques resulting in variations unique to each piece. We adore the organic feel of these vases, making them a special gift for you or yours. 

Northwest Rain Candle - $40

Hand poured into glass vessels, Marigold & Mint candles are made with natural soy, essential oils, and cotton wicks for a 40+ hour clean burn. The Northwest Rain scent is an invigorating blend of fir and fern inspired by the Olympic Rainforest. A fresh and almost sweet earthy fragrance, experienced after a rainfall. Tastefully boxed for easy gifting. Made in USA.

Mars Puzzle - $25

This gorgeous, round puzzle measures over 2 feet in diameter and features a super detailed image of Mars, courtesy of NASA. At 1000 pieces, it's a challenge, but the best puzzles always are, right??

Wine Finer - $38

This handy aerator fits directly into a bottle of wine and features a drip-free spout. Wine flows through 32 holes as you pour, drawing in oxygen and improving flavor. Integrated stainless steel filter catches any sediment or stray bits of cork. Includes an airtight lid in case you don't finish the bottle. Simply rinse with water between bottles.

Ideal Soap - $16
A cypress tree native to Japan, we love hinoki wood as a design material. We asked our friends at Handmade La Conner if they could make us a custom soap using hinoki oil. They delivered, and it's a beautiful, refreshing scent. Exclusively available at Ideal.

Canetti Magnet Frame - $32
This image-driven frame is wonderfully versatile. Place any sized image up to 5″ x 7″ between the two blocks of clear acrylic, which are held together with magnets. Orient the frame vertically or horizontally. Place two images inside the frame back-to-back and it becomes double-sided.