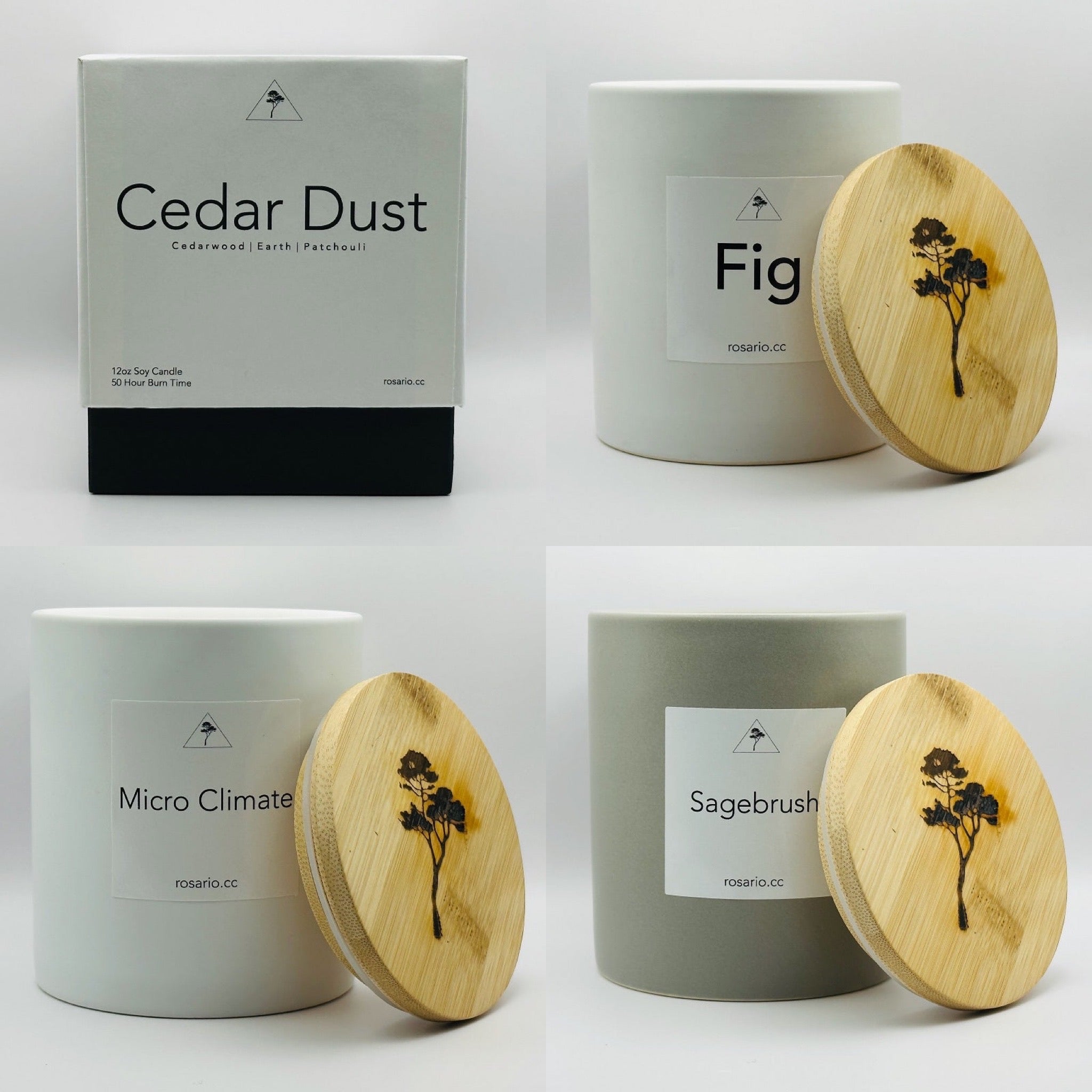 Cozy Candles and More!
Candles and More for Fall Coziness
Happy Autumn! Have you visited the shop recently? If not, you should - we've been so busy bringing in lots of fantastic new designs for fall and beyond. Below are some favorite candles, holders and more to help ease the seasonal transition with cozy self-care. 

Our current hours are Monday - Saturday 10-6 and 12-5 on Sundays. Just feeling too cozy at home? Remember you can shop online 24/7 with curbside pickup and FREE local delivery. See something you like but have a question? Give us a call at 360-752-5522. Thank you for shopping locally!
Rosario Candle Company Candles - $50Rosario Candle Company

 

creates lovely soy candles inspired by the flora and fauna of the Pacific Coast. All are hand poured right here in Bellingham and boast a 50 hour burn time. Stop by and smell to pick your favorite scent. 

Archivist Gallery Matchboxes - $13 each

These appealing

 

boxed matches

 

make a sweet gift or elevate your candle situation at home. Archivist Gallery designs are printed on beautiful textured board and printed using traditional letter press techniques. Each box contains 125 matches. Made in the UK.

Terrazzo Match Striker - $28

A simple,

 

handmade vessel

 

for holding a handful of 

strike-anywhere 

matches (not included), which will ignite when struck against the rough surface. Makes for a great addition atop your fireplace mantle or a handy tool near a candle/incense arrangement. Made in the USA.

Ora Birch Candleholder and Swedish Candles

This clever piece holds a taper on one end or a tealight in the other. Designed by Daniel Debiasi and Federico Sandri for Stelton, the

 

Ora Candleholder

 

is crafted from birch with stainless steel inserts ($45). Pair with

 

Swedish dripless taper candles

 

($32 for 9 tapers) or

 

6 hour votive tealights

 ($12 for 30 candles). 

Nappula Candle Holder Set - $145

This elegant

 

set of two candleholders

 

in white powder-coated steel adds a modern touch to any table or mantle. Inspired by an unusually shaped table found in the Nuutajarvi glass museum in Finland, the set comes in two varying heights and packaged in a gift box. 

Finnish Pines Hurricane Candle Holder - $12

A pretty

 

hurricane candle holder

 

embossed with pine branches. Vented lid protects flame from wind. Includes one 24 hour votive candle. Made in Finland.

Candle Care Set - $28

This

 

two piece set

 

will keep your candles burning efficiently and cleanly. A wick trimmer cuts candle wicks more cleanly than scissors, with a shorter wick meaning less smoke and a brighter flame. The snuffer neatly extinguishes the flame, eliminating messy wax spills that often come from blowing candles out. 

Lex Pott Rope Candles and Block Design Candle Holder Rope Candles

 

are made by meshing together and twisting two or three colors to create spirals reminiscent of twisted jute rope. Set of two candles ($20), made in the USA. They fit nicely in

 

Block Design's Triangle candle holder

 ($16) crafted from a single piece of steel. Made in the UK. 

Onsen Saru Bath Fizz - $7 and Candle - $21

Onsen Saru Hot Spring

 

Bath Fizz

 

is a soothing blend of sea salts, magnesium and pink kaolin clay. Scented with pine and cedarwood essential oils. The

 

soy candle

 

features a non-crackling wood wick and is poured in a reusable tin. Small batch made at Miyashiro Studio in Los Angeles, CA.

Marimekko Butticula Candle Holder - $113

This mouth-blown

 

candle holder

 

makes an elegant showcase on a mantel or side table. The brass taper insert is removable for easy cleaning or take it out and use the vessel as a vase.